This guide will assist you through the process of submitting a release to Symphonic for store approval. It also includes some basic style guidelines to adhere to per store regulations for content submissions.
Where to Start - Login to the Symphonic MS at http://www.symphonicms.com. Click the "create RELEASE" button or click "Create Release" under the "Distribute" drop down to begin.

---
Step 1 (Release Details)
Fill out all Release information. This is information that pertains to the overall release and does not include any track information.
1. Release Name - This is the title of the release (Album/EP/ Single).
If it is an EP, stylize it as EP. Do not use ep or Ep. If you're not sure if this release is an EP, check out this article.
All titles must be stylized in Title capitalization. Such as "To Be, or Not to Be" For more information on Title Capitalization click here.

If the release is a Volume or a Part, it will need to be stylized as "Release Title, Vol. 1" or "Release Title, Pt. 1".

Artist names cannot by in the release name unless it is a self titled release.

Producer credits cannot be in the titles. Add them as a Primary or Featured Artist or remove completely.
2. English Translation - If your release is in another language, please provide English translations. The translation will show on an stores that are English speaking. Your release will still show the original language on non English stores. English translations are not needed for Spanish, Italian, or French titles. 
3. Catalog # - This is any classification number for this release in your catalog. The most common format is the abbreviated label name followed by the number of release it is. Alternatively, you can use the one automatically generated.
4. UPC - A UPC is a "Universal Product Code" and is similar to a barcode or serial number. It gives your release a unique identity. Each new release created in the SMS needs its own unique UPC. 
If you need a UPC, click "Yes" and our system will generate one for you free of charge. If you have your own UPC, click "No" and a free text field will show so that you can enter your UPC.

For more information about UPC's, click here, and about using UPC's you already have, click here.
5. # of Tracks - Select the total number of tracks that will be on the release.
6. Various Artists - Select "Yes" is a release has 4 or more Primary Artists. Select "No" if it has 1, 2, or 3.
If your release has 4 or more Primary Artists, the release is to be listed as Various Artists. Featured Artists DO NOT count towards this number.
If your release has 1, 2 or 3 Primary artists they are to be listed individually on the release level.
For more information on Various Artists please click here.
7. Artist Name - Select the Primary Artist for the release.
If there is more than one but less than 4 Primary Artists you can press the plus sign ( + ) next to the Artist Name field to add additional Primary Artists.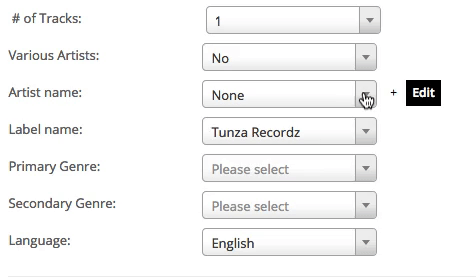 If you do not see your artist in the drop-down list you can add their name by typing it and clicking the add button that shows up when no results appear.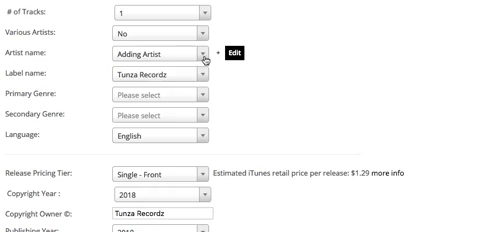 If you misspell the Artist name, use the 'Edit' button to correct instead of adding another artist. You can also edit artist name under Account > Artists.
8. Label Name - Select the Label in which this is to be distributed on. This only applies for accounts with sub-labels. 
9. Primary Genre - Select the Genre of music your release falls under.
10. Secondary Genre - For instance, if your first selection is 'Dance' this could be more specific such as 'Deep House' or 'Electronica'. 
11. Language - Select the Language of the lyrics. If you music does not have lyrics then choose the language your release and track titles will be in. If a language other than English, Spanish, or Italian is chosen, please go back up to step #2 and add translations for the release title. 
12. Release Pricing Tier - Stores automatically choose their own pricing for releases submitted to them. This option will give them a category to list it in. The most common is Mid or Mid/Front. Unless you have special price requests we recommend choosing Mid as this is what almost every release you see on iTunes is listed as. For more information click here.
13. Copyright and Publishing - For new releases, the year in which it is submitted to us is the year in which it is created and is considered the copyright and publishing year. 
If you submit a release in November 2019 to be released in January 2020, November 2019 is the Copyright and Publishing year as that is when the content was created. 
If the release is part of a back catalog you can select the year in which it was originally copyrighted.
14. Publisher Name - The Publisher name is most often the label name. Occasionally, the artist/group name or another company name is used.
15. Release Biography (optional) - For any release that is being sent to Beatport you can enter the release biography. The release biography is displayed on their site alongside the release details. If you are not sending your release to Beatport this field is not needed.
16. Upload Cover Artwork - Click "browse" and select the artwork stored on your computer or device you wish to use as the Single/EP/Album Cover Art. Art must be SQUARE and at least 3000 x 3000 pixels at 72 dip (300 dpi is recommended) in a 1:1 square image and CANNOT be blurry or pixelated. Full specifications can be found here.
---
Step 2 (Tracks) 
Here you can provide information for each track including the audio files. In step 1 you should have selected the number of tracks needed for the release, so you should see that number of blank tracks listed here which you can now edit. It is important to save often when editing tracks to prevent loss of information, especially with multi-track releases.
1. Bulk Upload Audio Files (optional) - If you have multiple tracks on the release you can upload audio for all of the tracks from the main view tracks screen by clicking on the icon for your preferred upload method (listed in order: web uploader, DropBox uploader, Google Drive uploader). Once uploaded the files are loaded into our system so that they can be later selected using dropdown menus.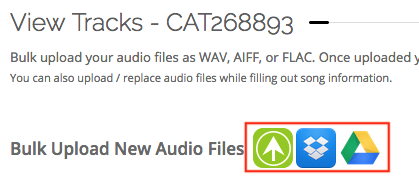 2. Edit Track - Click on the track name to begin editing that track.
3. Song Name - Enter the track name only. A full list of track title formatting guidelines can be found here.
Do not add any featuring artists or remix information in the track title.
Artist names are not allows in the track titles.
Do not enter explicit/clean versions.
Producer credits are not allowed in any titles. If you would like them tagged or credited they must be added as a Primary or Featuring artist.
4. Mix/Version (optional) - This field will auto-populate with the remix information when a remixer is selected. If adding a remixer select the remix artist first then verify if any additional information needs to be added. If the track is a special mix version of the original track for example a radio mix, remix, remaster, etc, you can enter that information here. Mix information entered here will automatically update the track title with the mix information when delivered to the store. Also, do not put any performance credits in this field such as produced by.
Do not enter "Original Mix", "Original Version", "Album Version", "Original", or any other mix information that signifies a standard version. Any track that is not a remix is deemed to be an original mix by store standards.
Do not add Producer credits to this field.
5. Audio File - If you previously used the bulk uploader you should be able to find the correct audio file listed in the dropdown menu. Otherwise you can click the "Upload Track" button to load the track into our system. Please note, our system accepts WAV and FLAC file formats. Our system does not accept mp3 format. 

Once the upload is complete you should be able to find the track in the dropdown menu. Full details on the correct audio specifications can be found here. 
6. Song Length - This will automatically populate and show the length of the audio file you have selected. If the track length looks wrong you may want to check your files.
7. Primary Track Artist - Each performing artist must be listed for the track, if there are multiple artists on the track click the "+" sign to add an additional artist.  

Do not list multiple artists in a single entry.
If your artist is comprised of more than one artist name such as "Hall & Oates" please review correct Compound Artist naming conventions here.
For more information on Primary Artist guidelines please review this article.
 8. Featuring Artists - Typically a featured artist is an artist that is a guest to the release and is not associated with the main performing artist/band. For example, the song "Get Lucky" is by the band Daft Punk (Primary) and featuring Pharrell Williams. Full guidelines on featuring artists can be found here. When you select a Featuring artist from the drop down, the track title is automatically re-name to Song Name (feat. artist name). 
9. Remixer - If an Artist has remixed a song by another Artist then they are not deemed Primary or Featuring. The original performing artist remains listed as a Primary Artist. So if the original track had a Primary and/or a Featuring artist then those roles stay the same on the remix except a remixer role is added for the artist who has performed the remix. The Mix Version field will populate with this information when a Remixer is selected.
10. Primary Genre - Select the genre that broadly covers the track.
11. Secondary Genre - Select the sub-genre that more specifically categorizes the track. The secondary genre options will change based on which primary genre is selected. If your genre is not listed then select the genre that next most closely matches your preferred genre.
12. Recording Year - Enter the year the master recording was finalized.
13. ISRC Code - The ISRC code is series of numbers used to identify a specific recording version of a track. Each track has a code unique to it. If you have your own ISRC code you can enter it here, if not you can click "generate ISRC code" to have a code generated for you. For more information on ISRC codes click here.
14. Price Tier - Track pricing can be set at 3 tiers - Front/Mid/Back, this is the pricing for a purchase of just that individual track. Typically on most partners this translates to:
Front - $1.29

Mid - $0.99

Back - $0.69
Some partners do not allow custom pricing so your pricing may vary from partner to partner. For full guidelines and information on price tiers please see this article.
15. Lyrics - If the track contains lyrics you must select "Yes" otherwise select "No." Selecting the wrong option here may be cause for some partners to hide the content after they review it.
16. Language - If the track is in English simply select English. If another language is used then English translations may be needed (Spanish, Italian, & French do not need translations, you can leave blank for those languages if you wish), check to see if a new English translation field has been created (at the top under Song Name) and provide the proper English translation based on the language guidelines for that language there. Foreign language guidelines can be found here.


17. Lyricist - Provide the name of the lyricist performing in the track. If you are using cleared sampled content and there are no records of the lyricist's name you can enter "Unknown Lyricist".
18. Lyrics Field - Enter the lyrics for the track in the blank field provided, this must contain only the actual lyrics, it cannot have headers or other information (ie. you cannot enter Chorus, Hook, Verse, Outro, Intro, etc). Do not write "x3" "x10" etc. for repeated lines, they must each be written in full. Please see our full guidelines on lyrics here.
19. Album Only (optional) - If you select "Album Only" for a track, that means that a customer has to purchase the entire album to receive that specific track. They will be unable to purchase that track by itself. Not all partners provide this function, it is mainly available on iTunes.
Any Track longer than 10 minutes will be marked as "Album Only" by the Digital Service Providers and this can not be changed. This may reflect a higher price level for this track.
20. Explicit Content - If your release has explicit language or art you'll need to check the explicit content checkbox. More information on explicit tagging can be found here.
21. DJ Mix - If your release is a continuous mix/DJ mix you'll need to select this checkbox, otherwise leave it blank. DJ Mixes submitted must be all original content that is sampled. Each track sampled must be added as a track to the release in addition to the full continuous mix.
---
Step 3 (Partners/Stores)
During this final step you will select the partners (stores) that the release will be sent to and when it will go live.

1. Exclusive Release (optional) - Here you can select a specific partner to receive the release and go live before other partners. If you check this box the next line will have a dropdown menu you can use to select which partner will get the exclusive release. You must also select what date the exclusive release will start, and how long it will be exclusive. The general release date for an exclusive release should be set for a time after the exclusive period ends.
2. General Release Date - This is the date when your release will go live on all selected partners. Please try to submit at least 18 days before the exclusive, pre-order, or general release date (whichever comes first for your release) in order to avoid any delays on partner sites. We cannot guarantee the release will be live on time if submitted with less than 18 days of the release date. 
3. Pre-Order Date (optional) - A pre-order is an option that allows you to make you release available for sale before the official release date. Customers can see the release name, art, and tracks before the release. Using this feature, your fans can lock in their purchase of your release before it even comes out. This article explains more about Pre-Orders and how to use them. If a Pre-Order date is chosen, your release will be available for Pre-Order on all download sites, you cannot choose specific stores. 
4. Enable Amazon Previews on Pre-Orders (optional) - If you have selected a pre-order date you can check this box to enable audio previews for your pre-order on Amazon. If this is unchecked consumers will be unable to preview your pre-order.
5. Territory - You can select Worldwide unless you have specific regions in which you need to send your content. If you do not select worldwide you will need to pick each individual region you want the release to be sent to. Keep in mind certain regions may not host your content due to language or other restrictions.
6. Selecting Partners - You can use the pre-made lists at the top to select different sets of partners or even select all partners. Alternatively you can scroll through the partner list and pick each individual partner you wish to send to. Once done, save your release before continuing to the final review.
Submit Final Review: Once you have completed all three steps you can proceed to a final review of the release. 

Once you click "Submit" you'll see all of the details for the release one last time. When you're ready click the "Submit" button at the bottom of the final review to submit your release for delivery.
Congratulations! You're finished with creating your release!  Once your release hits the first live date (exclusive, pre-order, or release date) you'll receive a notification that the release is going live on stores.