TikTok is the leading destination for short-form mobile video. Their mission is to inspire and enrich people's lives by offering a home for creative expression and an experience that is genuine, joyful, and positive.

TikTok is one of the most downloaded apps in the world. It allows users to upload 15-second videos to a scrollable feed, using background music from their diverse library of songs. Additionally, TikTok's "Sound Selection" page within the app has discovery features like genre playlists and "Hashtag Challenges" that encourage users to get creative with music and engage with trending topics. These discovery features have made TikTok a viral platform for artists.
About our partnership and how to deliver
In 2019, Symphonic announced our partnership with TikTok, allowing you to deliver your tracks to TikTok for its millions of creators to use in their videos. To send your content to TikTok, you'll simply need to select this delivery partner when finalizing your release. TikTok does not block access to their service from any territory, so it is available worldwide.
How to define clip start time on releases:
While you're creating your release, on the track level, you will see a field for Clip Start Time. The format for this field is HH:MM:SS (Hour:Minute:Second)

The Clip Start Time field informs TikTok of the time in which you want your clip to start on their platform. For example, if you have a 6-minute track and want to start the clip at 47 seconds, you would enter a start time. of "00:00:47".
The duration of the clip we send to TikTok is 60 seconds long.
How to define the clip start time on already delivered releases:
If a release is already delivered to TikTok, don't worry! You can follow the steps outlined on making changes to your release and then follow the above instructions to add the desired clip time.
How to check TikTok analytics:
The TikTok Analytics feature in the SymphonicMS provides daily activity counts across your entire catalog! There are metrics for video creations, video views, favorites, comments, shares, and likes.
Keep in mind that TikTok pays royalties based on the number of videos created using your music. The other video metrics, such as views, are not factored into royalty amounts.
Navigate to this feature by clicking on Analytics ► TikTok.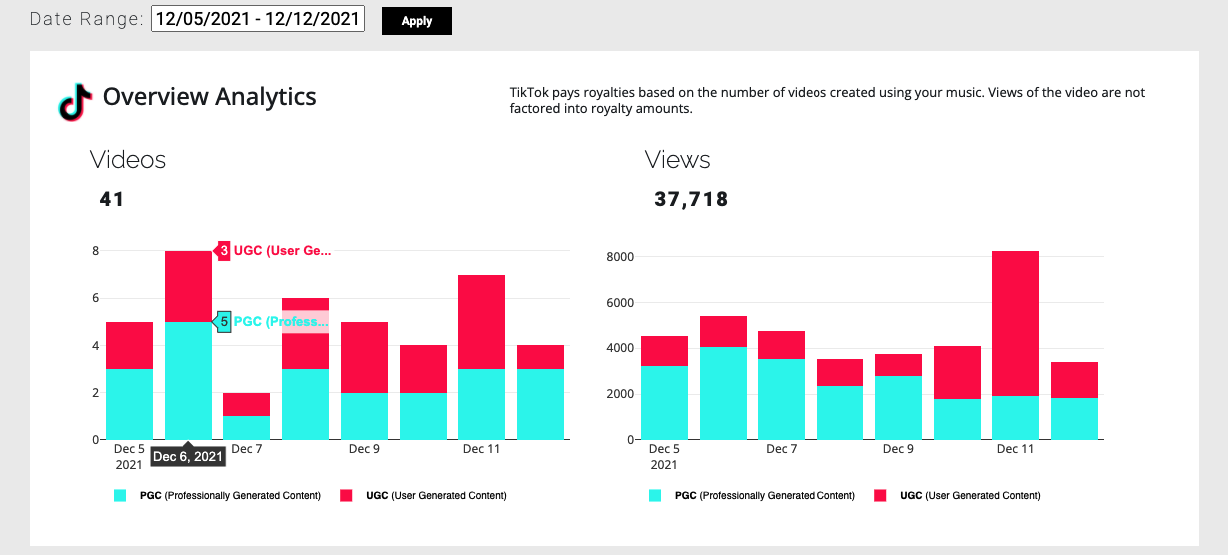 For a detailed walkthrough, please check out our TikTok Analytics guide and TikTok streaming royalties article.