Contributors enrolled in SplitShare can easily see their recouped earnings and recoupment progress in their SymphonicMS account. This can be found under the Royalties menu.
Royalty Summary
For each royalty period in which a payee is subject to recoupment, there will be a line item for "Recouped Earnings." This represents the earnings that would have been paid to the contributor via SplitShare but were recouped instead.
Royalty Details
The payee can see additional details on the royalty details page by either clicking View Details or View Multiple Periods and selecting a time frame.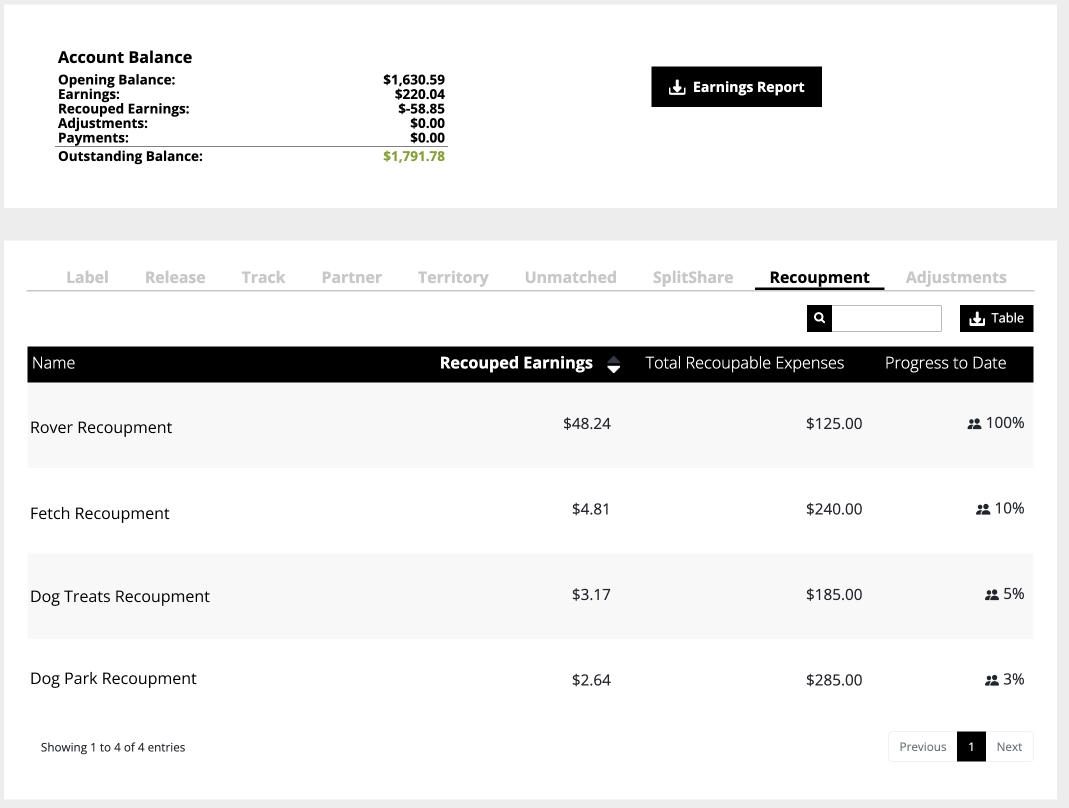 Once on the royalty summary page, payees can select the Recoupment tab. There are four columns:
Name. The name given to each recoupment for the selected date range.
Recouped Earnings. The amount of earnings that were recouped for each recoupment during the selected date range.

The sum of this column will equal the total recouped earnings in the account balance information at the top of the screen.

Total Recoupable Expenses. The total expenses for the selected date range that need to be recouped.
Progress to Date. The percentage of the total expenses that have been recouped.

If Progress to Date is 100%, then the recoupment is complete, and the contributor will start to receive royalties via SplitShare if they are enrolled.
Because recoupments can have multiple participants contributing, the Progress to Date column may factor in earnings from other payees. Recoupments with multiple participants are marked with an icon.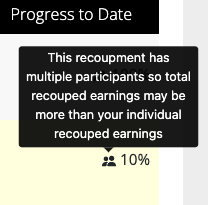 Contributors can be part of recoupments before enrolling in SplitShare, but they will only see information regarding that recoupment in their SymphonicMS account for periods after enrolling.
An account that created a recoupment can see recouped earnings for a contributor prior to that contributor's enrollment in SplitShare on the Payee Earnings History page. Please visit our knowledge base article HERE for more information about the Payee earnings history page.