What are feature placements?
We label "Features" as banner placements or your music being included on playlists via Spotify, etc. Whenever you see a banner or an album being promoted on a retailer, streaming platform, or music website, this is called a "Feature" because the platform itself features that specific product in their website front-end for prospective customers to purchase.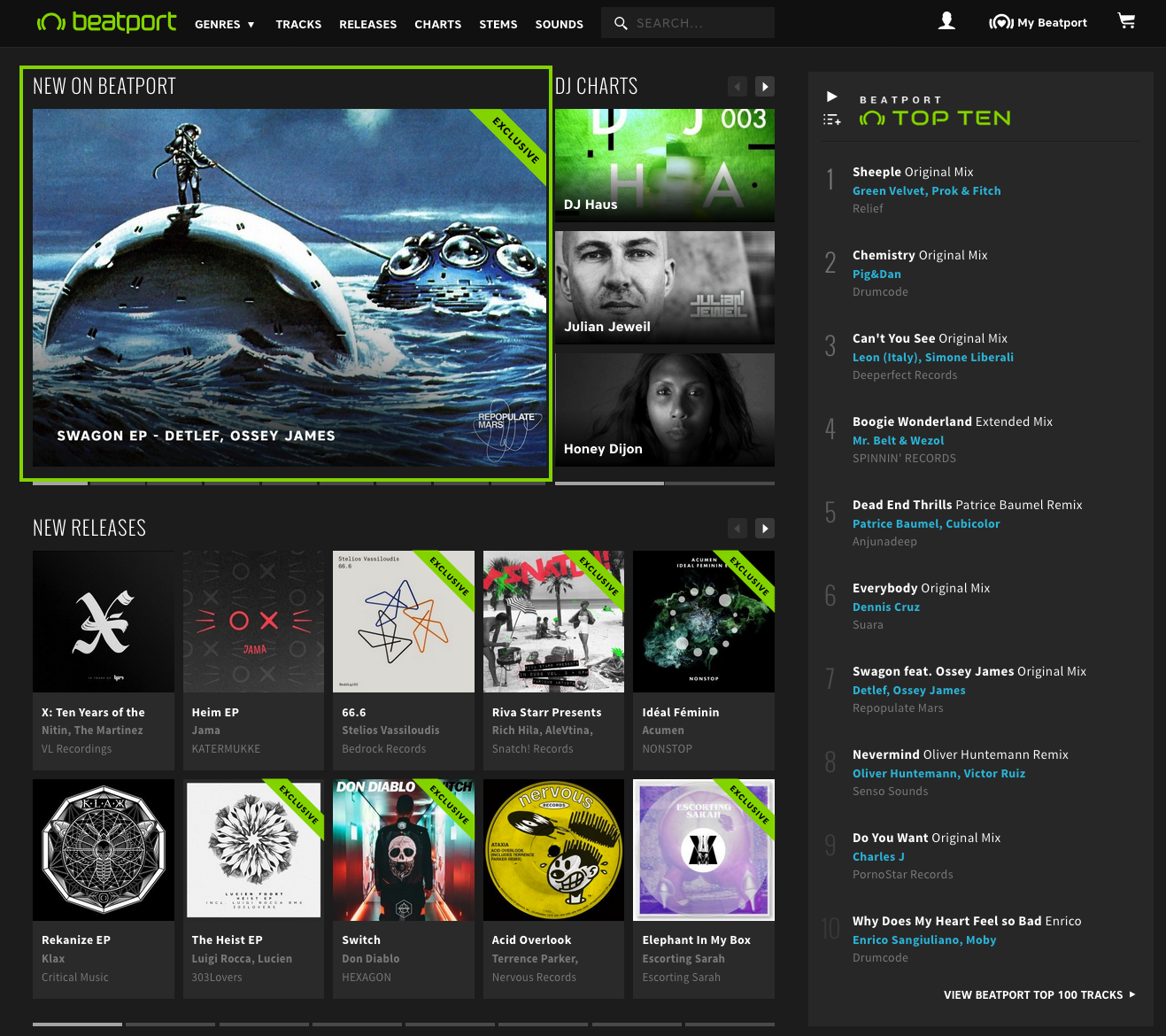 The image you see is of Beatport promoting individual releases. These are releases being pitched by distributors to be featured on their platform. The features are selected by the staff of the platforms (in this case, Beatport). They consider releases by having a close relationship and discussion with us regarding your album(s), and if they like what they see and hear, they get included.

We always like to make it very clear that we cannot guarantee a feature. Further, a feature doesn't guarantee that your product will sell or be streamed. It does help the chances, but it is up to a consumer to purchase or play your material. We do not accept payment for feature placements.
How can I get featured?
Our marketing team works extremely hard every single day (even on weekends) to secure as many feature placements as possible. To request a feature, you must have an account that enables you to have Marketing. If you do, you can log in to the SymphonicMS and navigate to Market ► DSP Features & Playlist Pitching.
If you're requesting a feature, you must submit your release to us at least 4-6 weeks before your release date. This will ensure that our marketing team has enough time to submit the release to DSPs. Submitting the release less than 3 weeks prior to your release date may decrease your chances of a feature.
If you'd like to be proactive, you can update us a week before the release goes live with any additional support or premieres you have secured, online or offline. Later, once the release is live, you can reach out to us again with any updates on the release's support to date.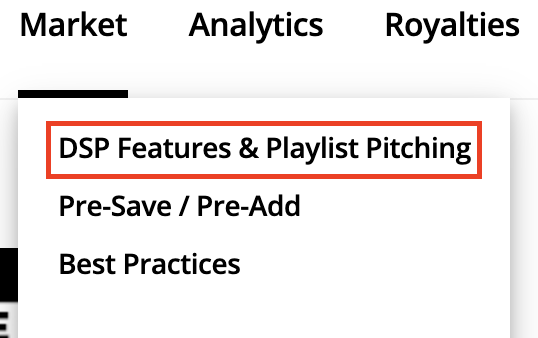 Once we've compiled all of the requests from record labels and artists, we take all of that information and review it to ensure it fits the proper specifications that a partner requires for a feature.

After our marketing team has determined the releases to be pitched for the week, we go forth and do our weekly phone calls and submissions to the various partners that we deliver to. We also prepare a featured releases newsletter for every partner to view in addition to our direct pushing.

Additionally, we review our catalog carefully and pitch music that we feel would fit well towards a particular territory and platform. We also place material on our playlists and work hard to pitch songs for playlists and Sync Licensing opportunities.
Many distributors have similar structures, and we feel it is important to be transparent and discuss the steps we take for our labels and artists. Of course, there are many other minor tasks and duties to secure placements, but every distributor has the same access and process to get releases featured.
What to Include
The details you provide to us can increase your chances of being selected for a feature. We require that you be as specific and detail-oriented as possible. If you have DJ support, list out the DJ's name and how they will be supporting (DJ charts, shares on social media, social media following, etc.). Make sure to include your marketing budget as well as how it was/will be allocated. Additional details to include:
Tour dates and location
Radio appearances
Interviews
Sponsorships
Playlist features
Television appearances
Social media follower count (for your sites, as well as remixers/featured artists)
Music reviews
Podcast appearances
Helpful resources for feature placements
Check out the below videos for more information.