Before you transfer your back catalogue to us, we recommend you take the following steps to ensure that all files and metadata is correct. We have a pretty handy step by step guide (and by handy, we mean detailed as heck) in case you'd like to take a look at it but, we decided, let's make it easy on you since you are entrusting us with your entire history.

Filenames

First, we won't be that difficult and require you to have to rename your files a certain way but, having them renamed and organized will be helpful. We say this mostly as a note and because we like to get folks prepped!

Audio

It is helpful to have the audio in 44khz over 16 bit stereo wav (pretty much, the standard master that you should have in your catalogue). If you have other file formats, we can re-encode but this will save a lot of time and prevent anything from going array from an audio quality standpoint.

Release Covers

Having 3000x3000 JPG release covers is helpful but, if you don't have that, the very VERY least we'd need is 2000x2000 and in JPG / JPEG format. The filename that you choose can be either the catalog number and/or UPC. At the very least ensuring that we can match that release cover to the release will be key.

Folder structure

Ideally, it helps if your back catalogue is delivered to us as follows on the screenshot. We can accept everything via various methods. Drop Box, Google Drive, or, we may even be cool enough to mail you a hard drive and make this a 1-2-3 drag and drop copy process (that's fun right?).

Folder: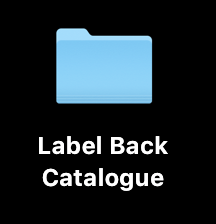 Inside of the folder: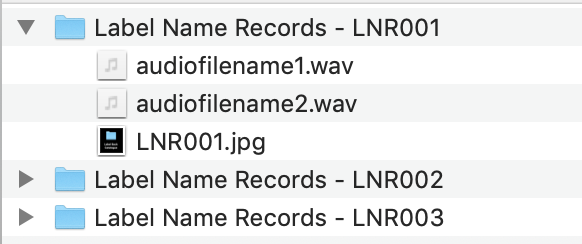 Metadata

This will be key. You want to have a spreadsheet from your old distributor that has the UPC, ISRC, Release Date, Release Name, Artist Name, Track Name, Release Date and everything as it is currently live on platforms. You should be able to request this from them. If they refuse, let us know and we can give other suggestions. That metadata will be key for our "loaders" to then be able to look into the audio and release cover folders and be able to then upload your content.

Also, if you need a metadata export, we may be able to get it from a partner that we distribute, such as Beatport, Traxsource, and/or others. Feel free to create a ticket if you have any issues with metadata.

Still with us?

It may sound like an undertaking but, it may not be as well and we're here to help. If any of this sounds confusing let us know! For more on back catalogue transfers, check these additional resources out, some will say a bit of what we talked about but, we like to ensure it's clear.