If you would like to take down a release from any partner, you are able to do so via the SymphonicMS. Please keep in mind that fees may apply.
Making a change to content is never a quick process. Some retailers may, in fact, not do the change right away unless we continue to nudge them on your behalf. If you wish to take down (deactivate) a release, it can take as long as 6 to 12 months after the request for the take down to occur.
How to Takedown a Release

Log onto the SymphonicMS and navigate to the "View Releases" page.





Click the X symbol to the far right of the image below to proceed.





The following window will pop up. State your reason to submit a takedown.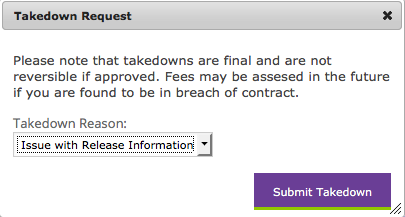 Our admin will then review your request and approve the take down as soon as time allows.

IMPORTANT NOTES:
* Once we process your request, most partners can take from a week to a month to remove your content.

* A takedown of the complete incorrect release must be executed. A single track from a multiple track release cannot be eliminated, the complete release must be removed.

* All partners will permanently remove any reviews and comments related to the original UPC as well as partner playlists that included this UPC.

* All takedowns are subject to Symphonic Staff approval on a case-by-case basis.
Copyright Violation Takedowns
If we receive a take down request from a partner due to copyright infringement we will place a deduction of $20. This is as of 12/6/2017. A deduction will show on your Quarterly Revenue Report. We take copyright matters very seriously and we have a zero tolerance policy and it will result in your account being charged, potentially foregoing your royalties, and account termination.
Separate legal fees may be imposed upon you should they be imposed on us.